Posted by Beach Lifeguard on 1st Jul 2014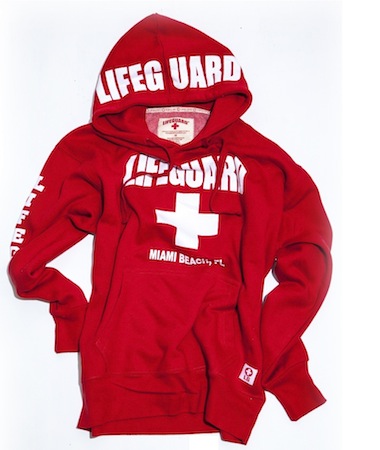 Why is it called the Iconic Hoodie? Well.. It's because this style hoodie has been around for over 50 years. Colors have been added, designs have been created, but there has never been any alteration to the Iconic Lifeguard® Hoodie, besides for quality improvements. As time has passed, the material composition and printing methods have only been changed a few times. Starting out as 100% cotton, the Iconic Hoodie began being recognized not only for the cool design, but for the super comfort of the sweatshirt. Materials have been added and removed to see new options of fabrication, however after testing and wearing, the best material compositions of the Iconic Lifeguard® Hoodie is 80% cotton and 20% polyester. This composition of material, allows the perfect amount of stretch, comfort, insulation and softness to be found in our Iconic Lifeguard® Hoodie and in our East and West coast editions as well. This unique design and texture has been around for over 50 years and will continue to be a timeless piece of history and a wardrobe staple.
LIFEGUARD® - Yes, this word is trade marked and can only be produced and sold by licensed companies like Popularity Products. When you stroll along beaches and notice a nice Lifeguard® Hoodie, you may check to see the authenticity of it by the ® next to LIFEGUARD®, the label behind the neck, and the hang tag, which holds our hologram. It is always a good feeling to buy and wear merchandise that is official and authentic made by the lifeguard brand. A wise man once told me: "Imitation is the sincerest form of flattery", and once I heard that, I learned that it is imperative to follow your creativity and passion because if people are imitating your work, it means that there is a demand for it. The Lifeguard® Lifestyle is all about living happily and peacefully, while helping others. That is our goal. Join the Lifeguard® family, you'll love it.
Authenticity and Originality is something we, Lifeguard® and Company, ensure to maintain because it reflects the way our clothing is enjoyed and worn. Clothing is an art and designing the way your "art" looks, is something of high value. The same way artists initial their paintings on the corners of their canvas or incorporated in the art itself, is like our Iconic Lifeguard® Hoodie. Our Swen-In neck label and embroidered "LG" patch on the bottom left, represents the initials of the brand that produced such an amazing work of art.. The Iconic Lifeguard® Hoodie.